Tonight The Mindy Project returns to Fox for its season 3 premiere, which means Mindy Kaling is storytelling on the publicity circuit.  Here are 5 things we learned from her interview with Howard Stern this week.
1.  Auditioned for SNL
During season 2 of The Office, after having already written 3 episodes, Mindy auditioned for Saturday Night Live thinking it would be a better platform for her acting.  Showrunner Greg Daniels told her he would only let her out of her contract at The Office if they hired her as an actor.  If SNL only wanted to hire her as a writer with the possibility of acting he wasn't going to let her go, because it was the same job she already had.  Mindy went on to be a guest writer at SNL for an episode in 2006.
2. Not Cool Enough For Drugs
"I've never seen cocaine in my life, I don't even know what it looks like," she confessed.  "I'm never in a situation where anyone cool has ever really offered me drugs.  I know drugs are happening and I'm just not privy because I act like a loser who's like where are the drugs?  I'd like to pay for some drugs."
3.  The Cast of Friends Took All The Money
Mindy admits that her money situation is fine, but she sounds like she\'d be happier with some more of it.  "I think my money is good," she hedged, "I don\'t make in a year what [Howard makes] in 3 hours, but I do pretty well."  She cites the famous Friends negotiations that led to bloated deals of the late 90s as the reason there seems to be no real money left in television today.  Now she identifies as being part of the new "middle class" of writers who have watered down versions of those giant deals.  "Listen, I\'m not complaining," she insists, "but i\'m not making Larry David money."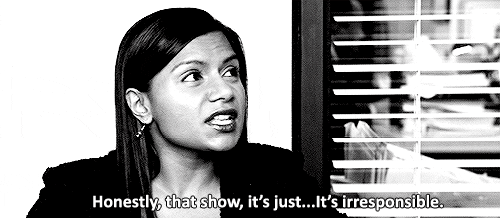 4.  Pretty Little Liar
When Howard offered to set her up with a fella she told him that she thought 2011\'s Sexiest Man Alive, Bradley Cooper, was the hottest guy in the world because why?  Fluent French speaker.  "It\'s very sexy that he just knows French because he learned it," she explains.  Later, when she was being more honest she reveals, "I want to look like a dainty, fuckable bird, but also be able to eat as much as I want."  That\'s more like it.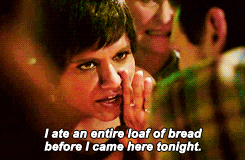 5.  Not So Secret Love
Before the interview finished, Howard asked if Mindy ever had "a great love" in her life still hurts because it didn\'t work out.  Turns out it was B.J. Novak all along.  "He broke up with me," she recalled saying she was "so miserable and so beautiful" after it happened.  When asked if she would have married him she responded, "Oh yeah.  I was 24, if anyone asked to marry me I would have."